CPAC – Cable Public Affairs Channel, is Canada's only privately-owned, commercial free, not for profit, bilingual licensed television service.
CHCH News "Square Off" Video Interview
Toronto Sun May 7, 2016 Free the Weed!
Alison on MAP (Media Awareness Project)
*Alison has done 185 articles listed at MAP (Drug Awareness News) see below …
*Start with Alison Myrden 1999-00 to Present on MAP's Drugnews search … example below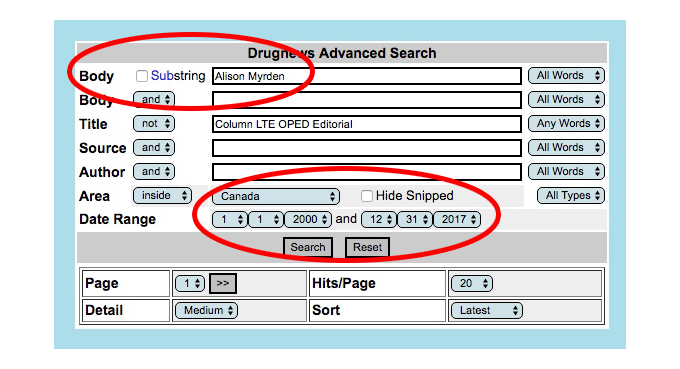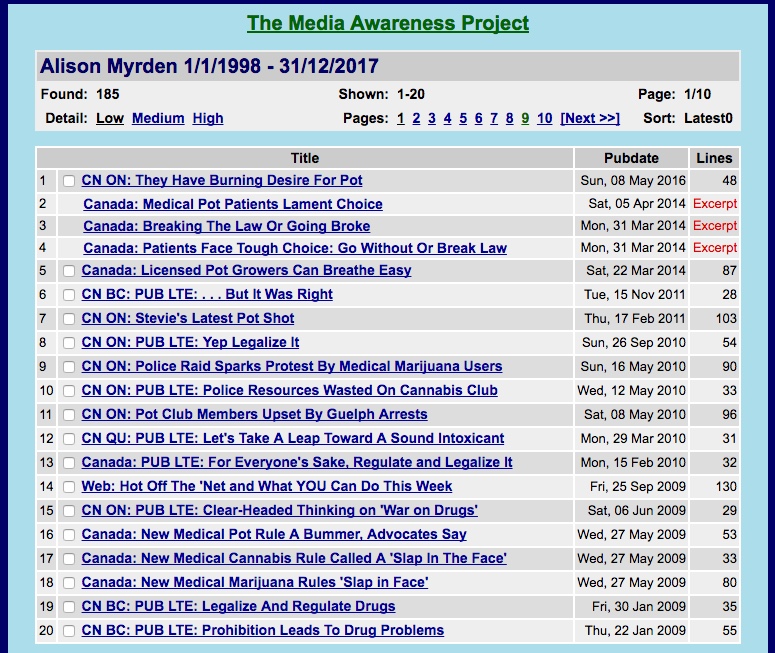 ---
Kirk Tousaw's statement on Ontario's cannabis monopoly scheme
by TOUSAW LAW on Sep 22, 2017
As you know, the Ontario government recently released its plans for retail cannabis distribution in the province. In effect, that plan sets up a government monopoly on all retail sales. Ontario intends to open 150 cannabis stores throughout the province and to implement an in-province mail order system separate and apart from the existing LP direct-to-consumer mail order system that is currently in place.
The choice of a government monopoly largely though not completely (alcohol can and is sold by private stores in the province) mirrors Ontario's approach to alcohol. It is also decidedly unlike virtually all other jurisdictions that has legalized cannabis for adult recreational consumption.
In addition, the Ontario government threatened to crack down on those operating outside its monopolistic system. It is unclear whether this crackdown will come by way of law-enforcement utilizing the CDSA or the criminal law power retained in the upcoming Cannabis Act to raid, arrest, and prosecute those operating, for example, private cannabis dispensaries.
Another tool at the Province's disposal is the use of the civil courts, and the city of Toronto and Hamilton are already attempting to use the court system to shut down dispensaries. Tousaw Law Corporation is actively defending cases in both jurisdictions on Charter grounds as well as arguing that doing so is outside the jurisdiction of the municipal governments. We have had one success and were able, in Hamilton, to rebuff the city government's attempt to obtain an interlocutory injunction (an injunction granted prior to the end of a trial) against a medical cannabis dispensary.
I believe that Ontario's plan is misguided and doomed to fail for a variety of reasons. This memorandum attempts to illustrate some of the problems with a monopoly approach in the context of an existing and vibrant cannabis industry coupled with existing lawful supply chains by licensed producers who sell currently via mail order direct to medical consumers in Ontario.
First, it is decidedly unlikely that there will be sufficient supply in the lawful production system to meet consumer demand when legalization is implemented. Even if every licensed producer in the country, including those licensed between now and July 1, 2018, were to devote its entire production capacity to servicing only the government of Ontario, there would still be insufficient amounts of cannabis on the shelves. Several of the larger licensed producers have already indicated that they will prioritize their existing medical consumers over the recreational market. Two of the largest (Canopy Growth and Organigram) have signed Memorandums of Understanding promising to supply New Brunswick with cannabis post-legalization. This dramatically limits the possible supply available to Ontario residents.
Related to these chronic supply shortages is a simple economic reality. It is clear that Ontario seeks to cash in on the upcoming recreational cannabis market. This is likely because Ontario has one of the largest sub-sovereign government debts in the entire world. Putting aside questions about how that debt was accrued and whether the Ontario government is even capable of running a recreational cannabis industry profitably, if it does seek to increase its revenue, it will of necessity use its purchasing power to attempt to obtain cannabis at significantly lower prices than retail. It will then tax and markup that product before sale to the consumer.
There appears to be no real financial incentive for existing licensed producers to sell cannabis to the Ontario government at wholesale pricing when they currently have enough customers in the medical side to sell every gram produced at a retail price point. Furthermore, the federal government has signaled that in provinces that do not implement their own retail distribution systems, the licensed producers will be permitted to sell direct-to-consumer via mail order as they have been doing for medical patients. Again, there appears to be little economic incentive for licensed producers to sell at wholesale pricing to the Ontario government when they are at capacity meeting the demand at retail pricing to their mail order clientele.
Another significant issue is the potential that residents of Ontario will be faced with higher price points for the purchase of cannabis in Ontario's monopoly stores than they would if they were medical patients obtaining from licensed producers directly. This could lead to a situation, such as that alleged to be occurring in California and elsewhere, in which there is widespread participation in the medical system by persons who are not necessarily consuming cannabis for medical purposes. If insurance begins to cover medical cannabis this problem will be exacerbated. An individual consumer able to find a supportive physician might be able to access cannabis at significantly reduced cost via mail order instead of purchasing from Ontario's stores.
Another significant problem with the Ontario model is it simply does not contemplate enough stores. At the height of the dispensary boom in Toronto there were in excess of 100 dispensaries operating and they had lines out the door. That was just one city. Granted, the largest city in Canada, but that demand is not going to decrease after legalization. If anything, it will increase. The idea that 150 stores are sufficient in a province as vast and populous as Ontario is absolutely ludicrous. By comparison, there are 650 LCBO operated alcohol stores in the province of Ontario.
Ontario may respond to the criticism of not enough physical storefronts by pointing to its mail order system. However, there are currently dozens if not a hundred or more online dispensaries operating in Canada. There are 50 licensed producers selling via mail order direct-to-consumer today. With this range of choices available to the consumer, there appears to be no reason why any consumer would purchase from the Ontario mail order system, particularly when that system is likely to be charging the highest prices.
Of course, because the Cannabis Act currently does not include edibles or other derivative cannabis products, the Ontario system will also not include those products. While this is a flaw of the federal government's program, the ripple effect will undoubtedly impact Ontario's intended market. Again, with so many other options available to consumers, it is fundamentally unclear why anyone would prefer to purchase at a CCBO with a limited range of products at higher prices than what one can obtain in the gray or black market.
Furthermore, because the province plans to ban advertising and require plain packaging, the consumer will not be exposed to the range of products available from the government stores. The purchasing experience will be boring. Product knowledge will be limited and any CCBO employees with cannabis sales experience will need to disclose participating in the unlawful industry, because that is currently the only way to obtain storefront cannabis sales experience. The cannabis industry is vibrant, colorful and exciting now. Ontario's plan to make it boring and generic can only backfire as consumers seek out interesting and fun experiences rather than plain packaging and industrial stores.
In terms of enforcing its monopoly, given the massive failure of repeated police raids and special project files in the city of Toronto to put an end to the illegal dispensary industry there (and similar failures elsewhere), it is significantly unlikely that anything that occurs post-Cannabis Act will eliminate that existing consumer pathway. To enforce its monopoly, then, the province will need to engage in police state tactics that are incredibly draconian and destroy lives and infringe the liberty of the citizens of the province.
Any dispensaries which continue to exist in Ontario once the Wynne government's plan comes into force will likely only have a viable defense to CDSA or Cannabis Act criminal charges on medical and compassionate grounds. At present and after the Ontario plan comes into force there is still a powerful argument to be made on behalf of storefront medical cannabis dispensaries. If the ACMPRs are ruled unconstitutional insofar as they have failed to implement Justice Phelan's (of the Allard case) vision of 'reasonable access' then it may be possible to force government to license and regulate private storefront medical cannabis dispensaries. To be able to best make out medical cannabis arguments if necessary to do so, dispensaries should take steps to have policies in place to demonstrate restriction of clientele to medical consumers. One way to do so is, for example, to improve compliance with the medical cannabis guidelines set forth by the Canadian Association of Medical Cannabis Dispensaries, though that is not the only method.
The Ontario plan has drawn significant criticism from pundits, industry leaders, some Ontario municipal leaders and Ontario's other political parties. Ontario is conducting provincial elections on or before June 7, 2018. I urge interested persons, particularly those operating dispensaries in the province, to increase political advocacy and organizing efforts. Encourage your clientele to become or increase their political participation.
Critical to this effort are (a) joining local riding associations; (b) voter registration drives; (c) attending all-candidates meetings; (d) voter turnout efforts on election day.
In addition to political advocacy, Tousaw Law Corporation, spearheaded by our Ontario primary counsel Jack Lloyd, will be exploring all possible legal avenues. We have filed intervention pleadings in a case called R v Comeau, currently pending in the Supreme Court of Canada. That case involves a challenge to interprovincial trade barriers in the alcohol industry and is the first major challenge to these trade barriers in almost 100 years. While the effect of Comeau may not directly impact Ontario's plan, if neighboring provinces enact working recreational retail systems, Ontario may feel market pressure to liberalize its current approach. Other legal challenges may exist, and we are exploring various options should it become necessary to litigate these issues in the criminal or civil courts of Ontario.
---
Mysterious symptoms and medical marijuana: Patients are looking for answers
Globe and Mail – August 19th, 2017 – Grant Robertson
Scott Wood had been losing weight for weeks, and it was starting to scare him. His skin developed strange blistering rashes, his muscles ached constantly, and his lungs burned. He couldn't stop coughing, and he was spitting up gobs of thick, clear mucous that looked like Vaseline.
But the worst day came in October when Mr. Wood, 53, a family man and military veteran, collapsed at the grocery store. "I walked about five feet, and I couldn't get a breath," he said. "I was down on my hands and knees in the parking lot."
He ended up in the emergency room that week – the first of seven trips to the ER over a span of six months – but the doctors couldn't figure out what was wrong. It was only later that he began to suspect what was really going on.
Mr. Wood, a former military police officer, had been consuming medical marijuana that, unbeknownst to him, was contaminated with several dangerous pesticides banned by Health Canada.
A doctor had prescribed the marijuana from a federally regulated drug company in September to treat a serious back injury Mr. Wood suffered while serving. At first, it was a godsend, allowing him to stop taking opioid painkillers and get on with his life.
Then, suddenly, in a matter of weeks, "my health went sideways," he said.
He stopped taking the marijuana soon after the mysterious symptoms began. It wasn't for another few months that the company supplying his prescription, Organigram Inc., revealed a problem: nearly all of its products from the previous year were unfit for consumption, and were being recalled due to chemical contamination.
The company, one of about 50 federally licensed medical marijuana producers in Canada, had been caught selling products tainted with two banned pesticides: myclobutanil, a chemical used to kill mildew, and bifenazate, an insecticide prohibited for use on certain types of plants, including cannabis.
The recall has impacted thousands of people, and raised questions about oversight and quality control inside Canada's new federally regulated medical marijuana sector – particularly as the government prepares to legalize the drug for recreational use next year, creating a multibillion-dollar industry. It is one of the most sweeping new policy decisions the federal government has undertaken in years, ending nearly a century of prohibition on cannabis.
In a bid to minimize concerns about the recall, Organigram told its customers there was nothing to be concerned with: the risk of adverse health consequences, it said, was "remote." The company, which grows the product at an indoor facility in Moncton, N.B., said it had no idea how banned pesticides got into its products.
But to Mr. Wood and others who had become seriously ill, something was wrong.
"When I heard that response, I thought, 'Come on – you have almost a year's worth of marijuana, and you don't know?' As a former police officer and investigator, when you give an answer like that, it doesn't sound very credible. Especially when you're in a business that is dealing with people's health," Mr. Wood said.
"Basically, my thoughts were, okay, let's see if that's true or not."
So Mr. Wood gathered his remaining prescriptions, and those of a military colleague whose health had also taken a turn for the worse. Instead of returning them in the recall, he reached out to The Globe and Mail, which arranged for the prescriptions to be tested at a federally licensed laboratory that is among the most experienced facilities in the country at screening for pesticides.
The results of the tests shocked him. Mr. Wood's prescriptions not only contained the two banned pesticides that triggered Organigram's original recall eight months ago, the samples also contained three additional pesticides that are outlawed by Health Canada for safety reasons.
In addition to the myclobutanil and bifenazate that were previously known, Mr. Wood's samples contained significant amounts of imazalil, tebuconazole, and a carbamate pesticide.
Imazalil is used to eradicate root rot, and is not to be inhaled. Tebuconazole attacks fungi outbreaks, but can damage the endocrine system in humans. Carbamate pesticides kill bugs by targeting and disrupting their nervous systems.
But the number of banned pesticides found in the product wasn't the only problem.
In one of Mr. Wood's samples, the level of bifenezate detected was nearly double the amount Organigram claimed was present in the recall – back when the company told patients there was nothing to worry about.
The results have called into question the inner workings of Canada's booming marijuana sector since Health Canada began doling out highly coveted production licences four years ago, while reassuring consumers that companies in the lucrative new industry would not be allowed to put profits ahead of safety.
The tests have also ignited a bitter war of words between Mr. Wood and the company, which disputes his findings.
Organigram sent product samples from its own archives to be screened at a lab of its choosing, and said those tests showed no signs of any additional pesticides.
Not satisfied with that response, though, and growing increasingly concerned about the problem of illicit pesticide use inside a supposedly quality-controlled industry, Health Canada conducted an unannounced inspection of Organigram's facility, and gathered archive samples of its own to have screened.
Those tests, completed in August, also did not find the additional pesticides contained in Mr. Wood's samples, raising questions about the discrepancy between the results.
The company believes the new allegations are false. Mr. Wood believes customers aren't being told the truth about what they were exposed to – that the archive samples kept in storage at Organigram have been whitewashed, and don't match up with what people like him actually consumed.
Through social media, Mr. Wood has assembled a database of hundreds of people across Canada who are all reporting the same mysterious health problems: searing abdominal pains, fatigue, blistering rashes, painful aching muscles, lung problems, constant nausea, and – curiously – coughing up a strange clear, thick, mucous.
"You've got all these people, they don't know each other, they all have the same symptoms," Mr. Wood said. And while there has been no determination, "Something's not right. Somebody needs to look into this."
---
Organized crime's interest in the illegal pot business is going up in smoke
There wasn't much need to smuggle pot into the country when Canadian cannabis connoisseurs liked the homegrown stuff better, experts say.
Mon., Aug. 14, 2017
Once a relatively safe, profitable business for outlaw bikers and mobsters, organized crime is moving away from the marijuana market because legalization and home-grown pot are making any gain not worth the risk, experts say.
The market share in the pot business for organized criminals has already slid as pot-loving "disorganized criminals" perfected their horticultural skills. There wasn't much need to smuggle pot into the country when Canadian cannabis connoisseurs liked the homegrown stuff better, experts say.
The days when Hells Angels and mobsters enjoyed a strong hand in Canada's marijuana trade will be just a hazy memory by the time pot is to be legalized next year, according to some experts.
"A pretty small part of the marijuana industry today is what I call organized crime," said criminologist Neil Boyd of Simon Fraser University — a change from a few decades ago, when big-league criminals thrived in the pot trade.
That's a major shift from the mid-2000s, when outlaw bikers worked with traditional Mafia groups to move into exporting Canadian marijuana, according to Kash Heed, former B.C. solicitor general, minister of public safety and West Vancouver Police chief. Most of that product was exported to the U.S., Heed said.
Rick Ciarniello, a Canadian spokesperson for the Hells Angels, politely brushed off questions about whether the world's largest outlaw motorcycle club has a position on legalized marijuana.
"Some are prone to believe all the police hype and propaganda," Ciarniello said. "If that is to be believed, the Hells Angels must have such a position. The fact is; the hype and propaganda is wrong. As such, the short answer is no."
The efforts of organized crime to control the pot trade have been undermined for the past three decades by "disorganized crime," according to Alan Young, an associate professor at the Osgoode Hall law school. Many of these are green-thumbed potheads growing marijuana for friends.
Others are in it for the money but don't resort to traditional organized crime hallmarks of corruption, collusion and violence, Boyd says: "They're really just business people."
Legalization of marijuana in some American states has cut the demand to smuggle it south. In Colorado and Washington State, where marijuana was recently legalized, pot prices have dropped almost 50 per cent over the past year, Boyd says, and lower prices mean less incentive to break the law.
"I suspect there's not going to be much money in cannabis at all," Boyd said. "I think things are changing.
"I think they (organized criminals) already have been withdrawing from the market."
A veteran says organized crime is entering a period of readjustment — and potential new opportunities — regarding marijuana in Canada. "They're all trying to get into the legal side of it," says the officer. "They have so much money they can manipulate the stock. Any criminal wants to legitimize his business."
Small-scale cultivation of pot would likely be allowed, much like it's now legal to make limited amounts of beer or wine for personal use. Amateur enthusiasts should be allowed to grow four plants per household, according to the Final Report of The Task Force on Cannabis Legalization and Regulation.
Former Toronto police Chief Bill Blair is the Liberal's point man in shaping marijuana legislation. He declined to be interviewed for this article.
In Toronto, police will continue to crack down on illegal marijuana dispensaries until the law is changed, spokesperson Mark Pugash said, adding that marijuana at some pop-ups has been found to contain pesticides, mould, rat feces and insecticide.
Experts agree it will be a mistake for the government to overtax pot and drive the price up, as this will create an opening for criminals.
Prime Minister Justin Trudeau clearly supports the push to regulate illegal pot pop-ups. In a meeting with the Star's editorial board in December, Trudeau said: "We haven't legalized it yet. Yes, we got a clear mandate to do that. We've said we will. We've said we're going to do it to protect our kids and to keep the money out of the pockets of criminals."
---
'Compassion clubs' should be legal, says lawyer
CBC News Posted: Jan 27, 2006
A lawyer says Ottawa should authorize "compassion clubs" to supply marijuana to people who qualify under the government's medical program.
Allan Young says the federal program creates licenced users of marijana, but does not allow them to buy it from a source of their choosing.
"The biggest problem is a supply issue," he said. "It turns on whether medical users should be compelled to purchase their medicine from a government supply, which only supplies a limited strain of cannabis."
Compassion clubs are private establishments where people can buy marijuana for medicinal use. Young says technically they're illegal, but that none have been successfully prosecuted.
Young's comments come in light of the case involving New Brunswicker Lynn Wood, who was convicted last year of trafficking marijuana. She claims she was operating a compassion club.
FROM FEB 21, 2005: Pot cafe´ owner found guilty of trafficking
Wood's appeal is scheduled to be heard Feb. 23.
The Justice Department has an interest in this case because it's one of 23 cases that challenge the federal marijuana laws, and Wood's could be the first decision to come down.
Wood has declined to speak to news oulets before the appeal is heard.
Alison Myrden, a client of Young's, is a licenced user because marijuana eases the pain of her multiple sclerosis. She prefers the high-grade pot available at compassion clubs over the kind she would get from a government source.
"I don't want to break the law anymore than anybody else does," she said. "These compassion clubs are our bread and butter. We have no place else to go. Nowhere else to shop."
CBC News – Click Here
---
Toronto Star July 22, 2017
From Canadian MAP INC
LEGAL AGE FOR POT USE LIKELY TO BE SET AT 19
EDMONTON – Ontario is on track to set the legal age for recreational marijuana use at 19, Premier Kathleen Wynne says.
Wynne told the Star the age of majority should be the same for pot as it is for booze once the federal government legalizes cannabis next July 1.
"I have a hard time imagining Ontario will have a lower age for pot than we do for alcohol," she said in an interview at the close of the annual premiers' conference here.
The legal age for drinking beer, wine and spirits has been set at 19 in Ontario since 1978.
It's impractical for the province to have a higher legal age for consuming cannabis than for alcohol, the premier added.
"I think that would be a challenge," Wynne said, as a smoky haze from British Columbia forest fires blanketed Alberta's capital.  Her comments came as Ontario holds online consultations at Ontario.ca/cannabis, where citizens can fill out a survey until July 31, and through public hearings as the province develops its strategy.
As other provinces have, Ontario must decide where cannabis will be sold and where it can be used; set an age of majority and protect both road safety and public health.
The online survey asks participants a number of questions: if they support 19 as the age of majority for marijuana; if landlords and condo boards should be able to restrict pot smoking on their premises; whether cannabis should be sold through government or private retailers or a mixture of both, and whether stronger penalties are needed for drug-impaired driving.
Wynne said she is keeping a close eye on what standards Quebec will set, given that the two provinces share a boundary easily crossed by thousands of people every day, particularly in the Ottawa-Gatineau area.
"It must be the case," Quebec Premier Philippe Couillard said at the premiers' conference, when asked if Ontario and his province should establish the same age of majority for cannabis.
Couillard quipped "imagine the traffic" imagining the circumstances if the ages were different, in light of the fact that several bridges connect the nation's capital to Quebec across the Ottawa River.
Quebec's legal drinking age is now set at 18, a year lower than Ontario's and that of most other provinces.  Alberta and Manitoba have also set 18 as their age of majority for alcohol.
A federal task force last year recommended 18 as the minimum legal age for recreational cannabis product and said Ontario and other provinces may want to set the age to 19 to match its age of majority for alcohol.
The Canadian Medical Association called for a minimum age of 21 for legal consumption of marijuana, saying its use at younger ages can damage teenagers' brains.
---
CBC News May 26, 2016
Toronto police raid pot shops suspected of trafficking
---
CTV News May 25, 2016
Police Crack down on marijuana dispensaries across the GTA
---
Huffington Post article: Quito Maggi
Posted: Updated: 
Why did the chicken cross the road? goes the old joke, with the obvious answer being, to get to the other side. Sadly, not all of lifes questions have such simple and obvious answers.
We recently learned that the mayor of Toronto, John Tory, sent a letter to the Licensing and Standards department asking them to study and make recommendations on regulating medicinal cannabis dispensaries in Toronto. This came just a day after Mayor Tory visited a dispensary himself to get a first hand look at the operation.
So, why did the mayor visit and ask city officials to study this, and then immediately begin issuing warning letters from Licensing and Toronto Police ahead of any report all ahead of even letting the standards committee to weigh in on the issue? I wish the answer were simple.
We learned yesterday that Cannabis Canada, the trade association that represents Canadas Licensed Producers of medical marijuana, has been lobbying the city quite extensively. But these efforts have been ongoing now for some time why the urgency to crack down now? Again, the answer is not as simple as wed like it to be.
Cannabis Canada has been providing any media outlet who asks with the following facts:
The legal pot industry got its start in 2014, when Ottawa introduced legislation requiring medical marijuana patients had to buy their product from licensed producers. There are currently 31 companies with licenses, 18 of which are in Ontario.
The truth is that the legal pot industry started long before 2014. It started in 2001when Health Canada instituted the Medical Marihuana Access Regulations (MMAR) which was replaced by the current Marihuana for Medical Purposes Regulations (MMPR) regulations. MMAR licenses are still legally recognized as valid due to ongoing litigation, most recently the Allard decision.
The Allard Decision
On Feb. 24, 2016, Justice Phelan of the Supreme Court of Canada in B.C released his decision on the Charter challenge commonly referred to as The Allard Decision. Justice Phelan concluded as follows:
The Plaintiffs liberty and security interest are engaged by the access restrictions imposed by the MMPR and that the access restrictions have not been proven to be in accordance with the principles of fundamental justice.
About dispensaries, the Court says the following;
Although dispensaries were not a focus of the parties submissions, I find Ms. Shaws evidence to be extremely important as dispensaries are at the heart of cannabis access.
Justice Phelan in his ruling gave Health Canada and the Government of Canada six months to replace MMPR regulations or amend existing MMPR regulations to fall in line with his findings. On March 24 2016, the health minister announced that the government would NOT appeal the decision.
So, here we stand with current regulation being deemed unconstitutional, with new regulations expected to be unveiled by Aug. 24, 2016 and the Mayor of Toronto is asking staff and Toronto Police to enforce an unjust law. The law, the regulations for medicinal marijuana, are still in force until such time as the new regulations are in place, mind you they are legally defensible, just not morally so.
The law is fluid, and what is legal one day may be illegal the next or vice versa. What does not change is right and wrong, justice and injustice. Sometimes it takes society a very long time to recognize an injustice. Once an injustice is recognized, defence of what was legal prior to a determination of justice is morally reprehensible.
So Cannabis Canada lobbies the mayor, the law is only in force until August (when its likely access to medical marijuana will expand beyond the current MMPR mail-order) and a 1,000-per-cent markup model will be instituted. The 31 licensed producers are worried about competition, as many hundreds of millions of dollars in future business are at stake billions once a legal recreational model is brought in.
So, why did the Mayor cross the road? Why is he asking city staff and police to enforce a law that has been deemed unconstitutional? Why is he not recognizing the authority of the Supreme Court or his duty to uphold the Constitution and the Charter of Rights and Freedoms?
The money, of course. It was simple after all.
The Simple Reason Behind Torontos Marijuana Dispensary Crackdown
---
TORONTO   Weed the North.
Queen's Park turned into a big puff of smoke Saturday afternoon as some 20,000 marijuana activists gathered near the King Edward VII statue, before rallying together and walking in the 18th annual Global Marijuana March through the downtown core, spliffs in hand.
While the federal Liberals made a campaign pledge to legalize marijuana, many of the parade-goers felt like the federal government was dragging its feet.
"Thousands of people are still facing criminal charges," said the event founder Neev, who refused to give his last name. "It should be legalized, it should be cheaper. It's so expensive because it's not legal yet. I appreciate the Liberals wanting to do it right, but the rollout is so slow."
The Toronto event was one of the 100 marijuana parades scheduled in cities around the world. The crowd, some dressed up in costumes — a man was wearing a Superman bong mascot outfit – peacefully made their way across Bloor St. W., down Yonge St. before heading west on Wellesley St. back towards Queen's Park, leaving behind them a cloud of smoke.
"Free the weed!" some chanted.
Burlington resident Alison Myrden, 52, joined the march in her wheelchair. She said smoking medicinal marijuana has allowed her to live with less pain while coping with progressive multiple sclerosis – an autoimmune disease of the central nervous system.
"It was the world's worst pain in my face and head, 24 hours a day," she explained. "I used to take 32 pills a day, 2,000 mg of morphine a day, heroin, then cocaine. It was 1990 when my doctor recommended medical cannabis. Now, I'm still going strong, but I've got a violent pain in my ear right now because I can't afford a source."
Michael "Puffdog" Thomas started growing his own cannabis plants in 1974 and now runs a vapour lounge in St. Catharines. He said the network of growing dispensaries in the GTA are at risk of criminalization because the only legal way to get weed right now is by mail through a licensed producer authorized by Health Canada.
"I'm tired of this war. It's a war against peace," he said. "Let's not put people in jail over a plant."
---
$25 Million from Ottawa to research Medical Marijuana
Group calls on Ottawa to puff $25M into medical marijuana research
TORONTO — A group comprised of doctors, patients, health charities and scientists is urging Ottawa to invest $25 million over the next five years for research into the health effects and potential therapeutic benefits of medical marijuana.
In a report released Wednesday, the Medical Cannabis Research Roundtable highlighted the lack of reliable, peer-reviewed Canadian-based research into marijuana as a potential treatment for a variety of diseases and conditions.
As our country embarks on a debate about the legalization of recreational marijuana, we should not lose sight of the need to invest in medical science and proper trials to better understand the impacts and effects of medical cannabis, roundtable chairman Dr. Jason McDougall, a professor of pharmacology and anesthesia at Dalhousie University in Halifax, said in a statement.
Physicians and patients are left with uncertainty about the potential therapeutic benefits of medical cannabis and particularly the potential to bring relief to those living with chronic pain.
The group identified three priorities for funding:
— Basic science: To have a better understanding of how medical cannabis affects disease progression, physiological function and is processed by the body.
— Clinical science: Peer-reviewed studies that focus on safety, efficacy, dosing and administration of medical marijuana.
— Health services and policy: Exploring issues such as equitable access to medical cannabis; how to manage and market medical marijuana in the context of legalization; transferring knowledge about the product to health providers and the public; and its social and economic impacts.
The Arthritis Society, a member of the group, also announced the creation of the Medical Cannabis Strategic Operating Grant, an annual commitment of at least $120,000 towards research into the effects of medical marijuana.
The charitable organization is also doubling its commitment to medical cannabis research to $720,000 over the next three years.
Patients with chronic conditions seeking relief face unfair barriers due to the lack of proper medical research (into cannabis), said president and CEO Janet Yale.
The election of a new government that has voiced its support for science and evidence-based policy-making creates an ideal opportunity to commit to the sort of rigorous understanding of medical cannabis that should have occurred long ago.
From Metro News