CPAC – Cable Public Affairs Channel, is Canada's only privately-owned, commercial free, not for profit, bilingual licensed television service.
CHCH News "Square Off" Video Interview
Toronto Sun May 7, 2016 Free the Weed!
Alison on MAP (Media Awareness Project)
*Alison has done 185 articles listed at MAP (Drug Awareness News) see below …
*Start with Alison Myrden 1999-00 to Present on MAP's Drugnews search … example below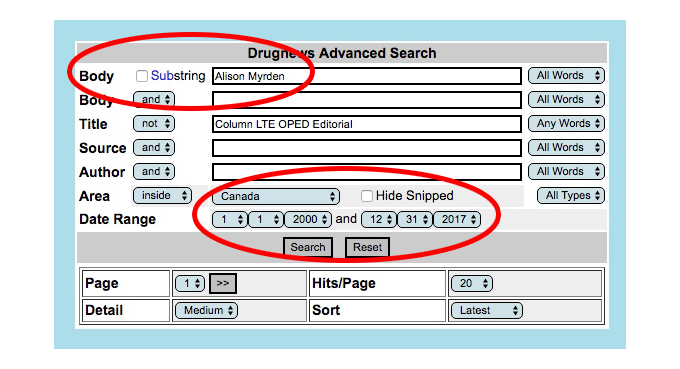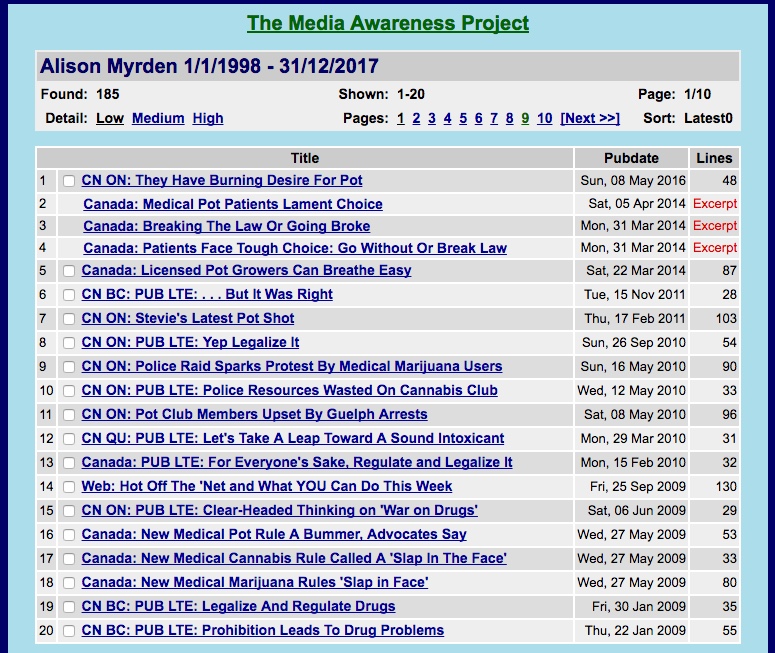 ---

---
The Anvil – Alison is in the Reefer Madness article – 2017
The Anvil Volume 2 … Edition 3
---
Down the Rabbit Hole by Brandon Braithwaite
There was a time in my life when I thought drugs were bad.
I still remember the DARE Bear being passed around my fifth grade classroom. I don't know what a bear has to do with drugs or how they thought it would relate to fifth graders but there it is, planted in my memory as one of those random things I think about when pondering drug education. Their mandatory drug lessons had a strong impact on me, for years I was adamantly against drugs. The information they shared, the pictures they showed, the stories they told were frightening. Cemented inside of my head was a fear and belief that drugs, all drugs, were bad. In some ways that fear helped me, it kept me from experimenting too much and potentially falling down a hole that would be difficult to escape from. What I got from the teachings that I hate about myself was a belief that I am morally better than somebody that's fallen down the hole.
A few days ago I sat down with a drug user (or as some like to say a substance user). She was anything but scary. Alison Myrden is a long time 'substance user' and advocate for the legalization of drugs. Alison consumes large quantities of cannabis, upwards of 100+ grams a day in concentrates and joints. She told me that she smokes 30 joints a day. I've seen the joints her partner Gary rolls and I couldn't smoke even one on my own. I'm pretty sure she could smoke Snoop (Dogg)Lion himself under the table. Due to medicinal cannabis laws she is able to consume this much legally. She has a medical license for 150 grams a day.
Coming from a family of police and corrections officers then spending a lot of time herself as an officer in youth correctional facilities, Alison had no interest in heavy drugs or even marijuana. She wasn't looking for a good time by getting high. What eventually drove her to try drugs was the constant pain. Her doctors tried anything and everything to find her a little bit of relief. "It was the world's worst pain in my face and head, 24 hours a day. I used to take 32 pills a day, 2,000 mg of morphine a day, heroin, than cocaine." As we chat in her living room I can tell that she's still experiencing pain. She instinctively pokes at the side of her face with quite a bit of force. For almost thirty years Alison has lived with chronic progressive multiple sclerosis and a pain on both sides of her face called bilateral trigeminal neuralgia (aka Tic Douloureux). "The main symptom of tic douloureux is a sudden, severe, stabbing, sharp, shooting, electric-shock-like pain on one side of the face" (WebMD). The only thing that brings her relief is cannabis and a certain strain of blue capped magic mushrooms. Alison now spends much of her time advocating for the healing effects of Cannabis. She wants to make sure that others who suffer can get the relief they need.
Shortly after speaking with Alison I bumped into a hooded, erratic gentleman named Steven. A few of us from the Anvil had set up at the Central Library talking to passersby's about drug addiction and legalization. It wasn't easy, people weren't interested in being recorded (lesson learned) and weren't about to be stopped on their way out. Then out of nowhere came a middle-aged guy with a scraggly beard and hoodie. Speaking almost excitedly he told me that he was an intravenous drug user and had watched his friend pass away from fentanyl laced drugs only a few weeks prior. He told me he was on his way to his friends but wanted to chat more. After taking my number he left me with the title of a spectator article telling me to "read that before we chat, it will catch you up on who I am." And then he was gone as fast as he had come. Intrigued to say the least, I jumped onto google and sure enough there he was, looking a tad younger and in a much healthier state. The article was 10 years old. It was about a City of Hamilton program that housed 18 people struggling with homelessness. Featured in the article was an interview with my hooded friend. Steven and his interviewer spoke about life, drugs and how trouble with the law led him to sleeping in Vancouver back alleys. From there he came to Hamilton where he stayed in the Good Shepherd shelters until being selected for the housing program. The interview ends with some questions about his future. When asked about what he would do for work, Steven replied "I have no clue. I have no skills at all, no education. Just getting back and finishing my Grade 12 is one of the things I want to do. But right now, it's taking care of myself, and that is keeping clean. Keeping clean is more important than getting my Grade 12 because if I don't stay clean, my Grade 12 won't mean anything." Other than not being clean, I have no idea how Steven's life turned out. Sadly, we were unable to reconnect. However, I know from his own confession that he was back using intravenous drugs.
Many people use drugs to cover up some sort of pain. They'll pop a pill, snort a line, light a joint or shoot up just to make life bearable enough to continue on. In some cases it might not be the best thing for them but that's where they're at. Excluding them more by labeling them law breakers, piling on more challenges in fines and jail time takes the focus off the health (physical or mental) of a person and makes it an issue of morality and punishment.
"If everything was legalized the community as a whole could better monitor people. There would likely be less over doses. We could have places that tested the quality to make sure product wasn't laced with fentanyl." I met Michelle for a coffee on one of the beautiful days in April. We sat outside, sipped coffee and chatted about her work as a Street Outreach Coordinator. She's been part of the SO team for 13 years, working to make connections and build relationships with the absolute homeless of Hamilton, people living on the streets, under bridges, in parks or in shelters. "I think it all comes down to fear, stigma and stereotyping. The media (society) tells us this is what a drug user looks like. It gives us the wrong image of what users are." Michelle's work follows a philosophy of Harm Reduction. It simply means that they aim to reduce the harmful effects from behaviours that could be harmful. The Needle Exchange Van is a good example of harm reduction in action. It is literally a van that drives around Hamilton dropping off clean syringes (as well as other H.R. equipment) and picking up the used ones, no questions asked. The service helps prevent the spreading of diseases like Hepatitis C and Aids. "It can be very intimidating for someone to come to a service agency and confide that they are using a substance and trust that the agency won't call the police. The Van Needle Exchange have a good reputation, they've been around for many years. People get to know these services, then friends start using them and they develop a really good relationship with people on the van." Providing needed health care without the stigma builds a level of trust, in turn this strengthens a relationship and eventually the potential for intervention when the person is ready.
Recently a co-worker of mine shared an interesting story from a show called the West Wing.
"This guy's walking down the street when he falls in a hole. The walls are so steep he can't get out.
A doctor passes by and the guy shouts up, 'Hey you. Can you help me out?' The doctor writes a prescription, throws it down in the hole and moves on.
Then a priest comes along and the guy shouts up, 'Father, I'm down in this hole can you help me out?' The priest writes out a prayer, throws it down in the hole and moves on
Then a friend walks by, 'Hey, Joe, it's me can you help me out?' And the friend jumps in the hole. Our guy says, 'Are you stupid? Now we're both down here.' The friend says, 'Yeah, but I've been down here before and I know the way out."
Maybe addiction and substance abuse hasn't caused you to fall down a hole but I am willing to bet that there is something that trips you up every now and then. If we could look at others with the same compassion we often show ourselves or would like to have shown to us then maybe we would see less people trapped in holes.
---
Alison on 100.7 BOSS FM from Oregon – 2018
Tune into the Archive page here: CANNABIS-MARIJUANA and YOU
---
AlISON on Cannabis and Coffee with Tamarijuana – 2018
Click the Link –  Cannabis and Coffee with Tamarijuana
---

The Government of Canada has given me a prescription that I can't fill!
The Government of Canada has given me a prescription that I can't fill!
My name is Alison and I am 49 years old, have Chronic Progressive MULTIPLE SCLEROSIS and Left-side TRIGEMINAL NEURALGIA (a.k.a. Tic Douloureux ). After symptoms dating back to Cheerleading in High School, I was finally diagnosed in October 1992 at the age of 28, back to the age of 10 and 11 years old, with this puzzling disease.
Almost 20 years ago I had my most serious Exacerbation to date and lost full use of my body from the waist down. After many years off and on a walker, utilizing a wheelchair more often than I liked AND working with some wonderful therapists, I am happy to say I now walk most days with a cane. Sadly I was consuming very small amounts of cannabis through my Doctors but none of us knew the incredible benefits back then…
After being assessed by some of the TOP PAIN SPECIALISTS in this end of Canada, being prescribed every Opioid (short of Methadone), trying numerous Epileptic medications and following various Alternative Therapies from Acupuncture to Infra-Orbital Nerve Blocks, in early 1994 I was introduced to MEDICAL CANNABIS for relief from the pain in my face and head that is absolutely unbearable most days.
Soon after, I investigated all avenues trying to find help with the COST and SUPPLY of this natural substance that was giving me so much RELIEF and so FEW side effects. (I have been on FULL disability since 1995 so affordability was a KEY FACTOR in my being able to use this as MEDICATION being given my first "prescription" for cannabis in 1994/95). Enter the Canadian Government…
To find out more regarding my Application for an "Exemption from Section 56 of The Controlled Drugs and Substances Act" to my note on my Doctor's Prescription Pad stating "Alison Myrden uses cannabis for relief from Multiple Sclerosis and a terrible pain in her face associated with MS called trigeminal neuralgia" in the mid to late 1990's which then, ultimately turned into a License from "the Medical Marihuana Access Division" (MMAD). We now sport the new Regulations calling the Program the "Medical Marihuana Access Regulations" or what is now known as "MMAR", please read on…
I have been smoking CANNABIS as MEDICINE through my Doctors for over 18 years; I have had face pain for over 23 years. I have been living with this pain around the clock 24/7 for 20 years as of the Summer of 2011.
I smoke half of a small Marijuana cigarette every 1/2 hour to hour to relieve the excruciating pain I experience in the left side of my face and head every day around the clock. Marijuana has helped me to come down from almost 2000 mg of Morphine per day. It has helped my leg spasms. It helped my bladder problems. It took away my nausea and stopped my constant vomiting. It has helped other symptoms that I wasn't expecting. I am alert and functional after smoking and am NOT addicted to it. When will people understand that this is NOT a "hard drug" and that it DOES BENEFIT some of us MEDICINALLY!!!??? I have now come down from over 30 pills per day for symptoms ranging from nerve pain, to bladder dysfunction, to muscle spasms, to a third of my total and now try to rely on cannabis as much as possible for relief. I cannot stress how much my quality of life has improved since being introduced to this WONDERFUL, NATURAL plant!
I wish those of you luck who have approached your Doctors. I did and with their help, I am now one of, in and around 20,000 people in Canada to be given an Exemption or a LEGAL License, to be sanctioned by Health Canada and the Canadian Government to smoke, grow and possess a restricted amount of this MEDICATION anywhere in this country.
This issue has just been acknowledged by the Canadian Government and they have been reviewing applications for people battling a plethora of health conditions for these Exemptions as they are submitted. When word continues to get out about HOW to approach the Government for this Exemption, Health Canada's offices will CONTINUE to be FLOODED!!
PLEASE, those of you who believe in this as MEDICATION, talk to your Doctors – THIS – is how things change! Be PRO-ACTIVE in your health! Ask the Doctor's to fill out the forms in support of this as MEDICATION for YOUR HEALTH ISSUE(S).
There are some WONDERFUL LINKS to the many diseases which medical cannabis has been said to help, including what I suffer from – Multiple Sclerosis and Trigeminal Neuralgia (a.k.a. tic douloureux) – as well as Spinal Cord Injury, Hepatitis C, AIDS (effects from wasting syndrome), Epilepsy, Cancer, Glaucoma, Chronic Pain, Depression, Alcoholism, Drug Dependence and hundreds if not thousands MORE! I just wanted to to mention a few health conditions that I have read over the many years I have been doing this. For a List of more illnesses and issues please drop by my dear friend GRANNY STORM CROW'S Grannystormcrow list to see a List of MMJ and many of the recognized conditions cannabis helps
If I have given one person an alternative to some of the NEGATIVE PHARMACEUTICAL DRUGS that are out there, then MY WORK HAS ALL BEEN WORTH IT. I understand your frustration and respect your need for a more comforting approach to the many health issues we face in our daily lives. I am asking the Government for a SAFE, CLEAN (fungus/pesticide-free), AFFORDABLE SOURCE of this MEDICATION now that they are handing out EXEMPTIONS. How can they give us a "PRESCRIPTION" that we have to go the STREETS to fill?
This has been my battle since coming out to the MEDIA in APRIL of 2000 for help and assistance in legalizing and regulating cannabis once and for all. I am now helping fellow Exemptees and those looking for help all across Canada to be Licensed to consume medical cannabis to fight this issue, as their health is more than likely failing and I believe they have ENOUGH to deal with!
I am going to make sure that no one else has to risk THEIR health in fighting this same issue.
I am making it easier for YOU and – WE – need YOUR HELP!! I DO NOT want someone I love to have to deal with THESE ISSUES in the future…
Look out Canada, and WORLD ~ I'm here to stay !! :o)
Good Luck and Good Health to All!
Here is the Story of how myself and 20 others got the very first FEDERAL Exemption for medical cannabis from the Government of Canada in the year 1999/2000…
My Medical History
The reason I looked into getting an EXEMPTION from Section 56 of "The Controlled Drugs and Substances Act" or what is now called a License in "the Medical Marijuana Access Division" (the MMAD) under a branch of Health Canada in the Canadian Government called "the Medical Marihuana Access Regulations" (MMAR) started like this…
In 1995 I started getting a sporadic stabbing pain in my left face. This was controlled for a period of time with pharmaceutical medication. First I tried a short course of Solumedrol intravenously that relieved the pain. I continued with Prednisone for about ten days. October 1995 my pain was episodic and was kept under control with Tylenol # 3's on an as needed basis. Next came a regular dose of Tegretol. This was increased in February '96 to 200 mg three times a day. Pain returned and 25 mg Dantrium was added, increasing to four times a day. This was probably due more to leg spasms. In March '96 Tegretol was increased by 200 mg because I was describing pain 8-9 out of a scale to 10.
April '96 I was started on another well known epileptic medication called Dilantin, increasing this while decreasing Tegretol. June '96 I was on 100 mg four times a day with relief for a few weeks. July '96 pain came back full force and Dilantin was increased to 500 mg/day. There was still trouble with breakthrough pain. Late October '96 pain increased, therefore I was told to increase my Dilantin… for the rest go to http://www.AlisonMyrden.com
Go to CNN iREPORT – Click Here
Sincerely,
Alison Myrden
---
For a pot smoker in pain, no help is on the way
ALWYNNE GWILT – Published August 11, 2007 – Updated March 27, 2017
Sitting back on a comfy couch in her Burlington residence, Alison Myrden looks ready for battle. Two long braids are tucked under her black cargo cap, while sunshine hits her sparkling nose stud and glints off of her fierce amber eyes.
She's passionate, ready to fight for her fellow multiple sclerosis sufferers.
A few weeks ago, though, Ms. Myrden's lustre was lessened after she was denied a summer student – one of five hired to give companionship to MS sufferers – by the Burlington chapter of the Multiple Sclerosis Society of Canada. The reason they gave her? The university students could be harmed by the marijuana she continually uses to control the savage pain in her face and help her walk.
"I don't get depressed, but this one really hit me hard," she says, her voice gruff.
Ms. Myrden, 43, has been fighting to help medical cannabis gain credibility for nearly 10 years, making headlines along the way. She was also once involved in law enforcement, working with young offenders who were often nailed for drug use.
"Then I'd go home and smoke [marijuana] It was completely hypocritical," she says. She was diagnosed in 1992 at the age of 28, but continued in law enforcement until 1995.
After quitting her job when the disease caused her to lose feeling below her knees, she started using pharmaceuticals more heavily. Nowadays, without marijuana, she needs to take 32 pills and 2,000 milligrams of morphine a day to manage her pain, which makes her sleepy and unable to communicate easily. But with 20 to 28 grams of marijuana a day (one of the heaviest allowances in the country), she can cut her pill use by two-thirds, yet still remain wakeful and alert.
Ms. Myrden is hardly alone. Canada has one of the highest rates of MS in the world. Increasingly, sufferers of the disease are turning to cannabis use to alleviate their pain, since medical heroin or opium can cause nausea and other unpleasant side effects.
Cannabis use has been regulated by the government since 2001 under the Marihuana Medical Access Regulations. The program, which has nearly 2,000 patients, gives licences allowing those approved to carry certain amounts of marijuana, while often also giving growing privileges to a family member. With approval, marijuana can be smoked, eaten, made into tea or ointment, vaporized, or sprayed into the mouth.
Nonetheless, doctors, aid groups and lawyers all say that this country is far from where it needs to be on acceptance of marijuana as a drug therapy.
"Everyone sort of rolls their eyes and winks at you, but I think people have to start treating it as a serious drug that helps people," says Dr. Allan Gordon, director of the Wasser Pain Management Centre at Mount Sinai Hospital in Toronto.
Ms. Myrden's lawyer, Alan Young, a York University law professor who's led the charge on medical marijuana approval, said he's surprised that the MS Society reacted this way, because it "has been quite supportive of marijuana research."
But Robyn Halliwell, the interim director of the Burlington MS Society who delivered Ms. Myrden the news, said she's trying to find balance between the rights of her staff and the needs of a client. "While we want to respect the rights of Alison to seek medical marijuana treatment, I believe there are five other people who have rights and should expect to work in a safe environment," she says.
The program is meant to increase social activity for MS sufferers. Ms. Halliwell considers her request analogous to asking a person to stop smoking cigarettes in front of a volunteer, as per the smoke-free work-environment regulations. And while she said she's not aware of any studies the MS Society of Canada has been doing on medical marijuana and has not read any studies on the therapy, she stressed the point that neither the summer students nor she are medically trained or allowed to handle it.
"Whether or not that is her pain reliever, the fact is, we're still exposing our students to something where they could become high," said Ms. Halliwell, who discussed the issue with a pharmacist and the national MS Society before making her decision.
Ms. Myrden now relies on her mother, Joyce, to help her out with making baked goods that contain the marijuana, a format that helps ease her nausea, allowing her to get a solid night's rest.
Her lawyer, Mr. Young, says "mixed messages" in the legislation cause confusion about marijuana use. "If Alison were able to secure a tablet that had the same products in it, they wouldn't blink," he says. Since the Conservative government has moved away from decriminalization, they are unlikely to support a strong medical marijuana program, Mr. Young points out.
As well, as part of budget cuts last September, the government decided not to renew the medical marijuana research program, citing savings of $4-million over the next two years.
Ms. Myrden is hopeful the government will one day catch up with the apparent beliefs of the rest of Canada, which was recently found by the United Nations to have the highest usage rate of marijuana in the industrialized world.
Finally, she said, she wishes everyone could just get along and find a solution, because she doesn't want to see this happen to anyone else.
"I don't want to fight the [MS Society of Burlington] I don't have the energy to," she says wearily.
"[But]people like me are going to be coming for a long time in this country and they have to get used to us, because we have rights too."
Click here for – Globe and Mail Story
---
 'Compassion clubs' should be legal, says lawyer
CBC News Posted: Jan 27, 2006
A lawyer says Ottawa should authorize "compassion clubs" to supply marijuana to people who qualify under the government's medical program.
Allan Young says the federal program creates licenced users of marijana, but does not allow them to buy it from a source of their choosing.
"The biggest problem is a supply issue," he said. "It turns on whether medical users should be compelled to purchase their medicine from a government supply, which only supplies a limited strain of cannabis."
Compassion clubs are private establishments where people can buy marijuana for medicinal use. Young says technically they're illegal, but that none have been successfully prosecuted.
Young's comments come in light of the case involving New Brunswicker Lynn Wood, who was convicted last year of trafficking marijuana. She claims she was operating a compassion club.
FROM FEB 21, 2005: Pot cafe´ owner found guilty of trafficking
Wood's appeal is scheduled to be heard Feb. 23.
The Justice Department has an interest in this case because it's one of 23 cases that challenge the federal marijuana laws, and Wood's could be the first decision to come down.
Wood has declined to speak to news oulets before the appeal is heard.
Alison Myrden, a client of Young's, is a licenced user because marijuana eases the pain of her multiple sclerosis. She prefers the high-grade pot available at compassion clubs over the kind she would get from a government source.
"I don't want to break the law anymore than anybody else does," she said. "These compassion clubs are our bread and butter. We have no place else to go. Nowhere else to shop."
CBC News – Click Here
---
LEGAL AGE FOR POT USE LIKELY TO BE SET AT 19
Toronto Star July 22, 2017
From Canadian MAP INC
EDMONTON – Ontario is on track to set the legal age for recreational marijuana use at 19, Premier Kathleen Wynne says.
Wynne told the Star the age of majority should be the same for pot as it is for booze once the federal government legalizes cannabis next July 1.
"I have a hard time imagining Ontario will have a lower age for pot than we do for alcohol," she said in an interview at the close of the annual premiers' conference here.
The legal age for drinking beer, wine and spirits has been set at 19 in Ontario since 1978.
It's impractical for the province to have a higher legal age for consuming cannabis than for alcohol, the premier added.
"I think that would be a challenge," Wynne said, as a smoky haze from British Columbia forest fires blanketed Alberta's capital.  Her comments came as Ontario holds online consultations at Ontario.ca/cannabis, where citizens can fill out a survey until July 31, and through public hearings as the province develops its strategy.
As other provinces have, Ontario must decide where cannabis will be sold and where it can be used; set an age of majority and protect both road safety and public health.
The online survey asks participants a number of questions: if they support 19 as the age of majority for marijuana; if landlords and condo boards should be able to restrict pot smoking on their premises; whether cannabis should be sold through government or private retailers or a mixture of both, and whether stronger penalties are needed for drug-impaired driving.
Wynne said she is keeping a close eye on what standards Quebec will set, given that the two provinces share a boundary easily crossed by thousands of people every day, particularly in the Ottawa-Gatineau area.
"It must be the case," Quebec Premier Philippe Couillard said at the premiers' conference, when asked if Ontario and his province should establish the same age of majority for cannabis.
Couillard quipped "imagine the traffic" imagining the circumstances if the ages were different, in light of the fact that several bridges connect the nation's capital to Quebec across the Ottawa River.
Quebec's legal drinking age is now set at 18, a year lower than Ontario's and that of most other provinces.  Alberta and Manitoba have also set 18 as their age of majority for alcohol.
A federal task force last year recommended 18 as the minimum legal age for recreational cannabis product and said Ontario and other provinces may want to set the age to 19 to match its age of majority for alcohol.
The Canadian Medical Association called for a minimum age of 21 for legal consumption of marijuana, saying its use at younger ages can damage teenagers' brains.
---
TORONTO – 

Weed the North.

Queen's Park turned into a big puff of smoke Saturday afternoon as some 20,000 marijuana activists gathered near the King Edward VII statue, before rallying together and walking in the 18th annual Global Marijuana March through the downtown core, spliffs in hand.

While the federal Liberals made a campaign pledge to legalize marijuana, many of the parade-goers felt like the federal government was dragging its feet.

"Thousands of people are still facing criminal charges," said the event founder Neev, who refused to give his last name. "It should be legalized, it should be cheaper. It's so expensive because it's not legal yet. I appreciate the Liberals wanting to do it right, but the rollout is so slow."

The Toronto event was one of the 100 marijuana parades scheduled in cities around the world. The crowd, some dressed up in costumes — a man was wearing a Superman bong mascot outfit – peacefully made their way across Bloor St. W., down Yonge St. before heading west on Wellesley St. back towards Queen's Park, leaving behind them a cloud of smoke.

"Free the weed!" some chanted.

Burlington resident Alison Myrden, 52, joined the march in her wheelchair. She said smoking medicinal marijuana has allowed her to live with less pain while coping with progressive multiple sclerosis – an autoimmune disease of the central nervous system.

"It was the world's worst pain in my face and head, 24 hours a day," she explained. "I used to take 32 pills a day, 2,000 mg of morphine a day, heroin, then cocaine. It was 1990 when my doctor recommended medical cannabis. Now, I'm still going strong, but I've got a violent pain in my ear right now because I can't afford a source."

Michael "Puffdog" Thomas started growing his own cannabis plants in 1974 and now runs a vapour lounge in St. Catharines. He said the network of growing dispensaries in the GTA are at risk of criminalization because the only legal way to get weed right now is by mail through a licensed producer authorized by Health Canada.

"I'm tired of this war. It's a war against peace," he said. "Let's not put people in jail over a plant."
---
2014 poised to go to pot | The Star
As of Jan. 1, the world's first pot shops opened for business in Colorado. More are planned for Washington state. In Uruguay, the first country to fully legalize marijuana, the government will oversee the sale of weed beginning this spring. And in Canada, where public support of pot has never been higher, new medical marijuana laws will usher in a free market that produces high-quality cannabis to support a rapidly growing number of users.
After years of being deemed an illegal substance, restrictions and attitudes toward pot in 2014 appear to be loosening up at a speed that has even marijuana activists pinching themselves.
South of the border, public opinion is driving the change. There are 20 states that permit medical marijuana use, and this week we learned New York is planning to do the same. Two of the 20 states allow recreational use, with others also considering it.
Faces of Pot:
Canada has a federally regulated medical marijuana program, but public opinion here supports greater legislative change.
No doubt, Canada — along with the rest of the world — will be watching groundbreaking changes in marijuana reform play out in other jurisdictions.
This could be the year Canadians decide to either embrace or reject marijuana reform, says pot activist and former corrections officer Alison Myrden, spokesperson for Law Enforcement Against Prohibition.
"This year is really important because it will help sway change," says Myrden. "We are at a tipping point."
Changing attitudes in Canada
Recreational marijuana use has been illegal in Canada since 1923, but that hasn't stopped many from smoking up. According to a 2012 Health Canada study, 42 per cent of Canadians over age 15 — about 12 million people — admitted to having tried marijuana.
Defence lawyer Paul Lewin, who's worked on many cases involving marijuana offences, says "attitudes are changing at all levels and by everybody: Crowns, police, citizens."
Public opinion in support of decriminalizing possession of small amounts of pot — or even legalizing it — has never been so high, says Lewin, the Ontario regional director of the non-profit group NORML (National Organization for the Reform of Marijuana Laws).
In recent years, major Canadian cities have seen the arrival of vapour lounges. The bring-your-own bud lounges are kind of like neighbourhood bars, but rather than drinking booze, people smoke pot.
These establishments give medical users a place to consume their medicine and get recreational smokers out of alleyways and parks.
Toronto has seven vapour lounges, the first opened in 2003. Last month, Get Melted Café opened on Church St., offering tokers gourmet grilled cheese sandwiches to ease their munchies.
"(Medical) marijuana has gone from the far fringe to the mainstream over the last 20 years," says café owner Neev Tapiero, who opened one of Toronto's oldest compassion clubs — Cannabis As Living Medicine or CALM — in 1996 to dispense cannabis to sick people.
There's also a growing tolerance when it comes to possessing small amounts of weed. Many cops acknowledge that making an arrest over a few joints is a drain on police and court resources. Last summer, Canada's police chiefs suggested ticketing instead of arrest for possession of 30 grams or less. Some have referred to this as de facto decriminalization, but police say they don't support legalizing or decriminalizing marijuana, they simply want an extra enforcement tool.
Myrden sees ticketing as a "baby step" in the right direction. Ideally, she would like to see it legalized.
"I've been fighting (for marijuana reform) for 25 years and I can see that the laws are loosening," says Myrden, who uses medical marijuana to ease symptoms for multiple sclerosis and tic douloureux, a nervous system disorder that causes facial pain. "(The issue) is on the table like never before."
But Doug Hutchinson, a professor of philosophy at the University of Toronto, sees ticketing differently.
"Adding this power to the police arsenal will result in more enforcement, and this is why police chiefs are pressing for it," says Hutchinson, an expert in medical marijuana. "It will permit police to threaten cannabis users without needing to collect and preserve evidence carefully, for use in the future criminal trial to which every defendant has a right.
"Likewise, if a man armed with a gun threatens you, arming him with a knife as well does not loosen his control over you; on the contrary, this will permit him to threaten you even in situations when he can't fire his gun."
Politics and pot
Although other jurisdictions are embracing more liberal pot laws, Lewin says Canada's Conservatives aren't keeping pace.
"We're moving against the grain," he says. "We're bringing in tougher laws."
In 2012, as Colorado and Washington states voted to legalize cannabis, the Conservative government in Canada ratcheted up penalties by introducing mandatory minimum prison sentences, such as six months in jail for growing six marijuana plants.
This, despite a growing number of Canadians who support relaxing marijuana laws.
In 2012, an online Angus Reid survey found 57 per cent of Canadians support legalization and 68 per cent described the "war on drugs" as a failure.
Then, a Forum Research poll done last summer found 69 per cent of Canadians support decriminalizing possession of small amounts or outright legalization and taxation, compared with 66 per cent two years ago. Support was highest among those aged 18 to 34 and boomers aged 55 to 64.
People of all political stripes supported loosening restrictions, but Conservative supporters were most lukewarm to the idea, with 62 per cent in favour, compared with 76 per cent of Liberal supporters and 73 per cent of NDPers.
The August poll was taken a month after federal Liberal Leader Justin Trudeau announced his support of legalizing, taxing and regulating marijuana, and a day after he admitted he smoked marijuana while a sitting MP. The NDP favours decriminalizing pot.
"The Tories had this idea that (Trudeau) made a faux-pas, but really he didn't because that's really where the public is standing in this issue," said Forum Research President Lorne Bozinoff. "This would have been a faux-pas 30 years ago, but not now, because the country has moved on. . . . It's now evolved to the point where (marijuana) is not a big deal anymore."
Lewin adds, "often on political issues you see the parties rush to the middle . . . . But this is a rare issue in which the parties have gone to the far extremes. . . . It's such an extreme stark choice that it can't help but be a big issue in the 2015 election."
Canada's new medical marijuana law
Canada's medical marijuana program is set to undergo a major overhaul — a move generating praise and criticism.
Under the outgoing system, introduced in 2001, doctors signed a form stating conventional treatments weren't working and the patient was licensed by Health Canada to possess marijuana. The patient would either buy weed from the government, grow it themselves or designate a grower. Most preferred the latter two options as they were most cost-effective. However, police complaints about unsafe grow-ops, home invasions and vast amounts of medical marijuana diverted to the black market prompted the overhaul.
With the new Marihuana for Medical Purposes Regulations (MMPR), which was introduced in the fall but takes full effect on April 1, the government will no longer license users or sell weed. Nor will personal production be allowed. Instead, it will be up to doctors and nurse practitioners to prescribe marijuana, which must then be purchased from licensed producers supplying high-quality marijuana free of mould, pesticide and fungus.
That means compassion clubs, such as CALM, will be forced to shut down by April 1. Tapiero, however, hopes to become a licensed producer.
For private industry, the potential for profit is enormous. There are about 37,500 licensed users. But Health Canada anticipates by 2024 there will be more than 450,000 people using pot for medical reasons, generating $1.3 billion in annual sales. Producers will also be able to import or export weed, potentially making Canada a leader in an emerging industry.
Even though a growing number of doctors have come to accept marijuana, many are still opposed. The Canadian Medical Association and the Federation of Medical Regulatory Authorities of Canada say there is no clinical evidence to justify pot as medicine. It also doesn't like that the new law puts the onus on doctors, who have no information on when to prescribe it, correct dosages or possible side effects.
Eliminating bureaucratic red tape puts an end to wait times for licences and gets rid of illness categories, both significant improvements, say advocates. However, some say eliminating personal production and forcing patients to purchase marijuana will make the cost prohibitive for those on a fixed income. Growing pot costs between $1to $4 a gram, whereas the commercial price is estimated to range between $6 and $12. (Buying it on the street costs about $10 a gram.)
"This will have the perverse effect of driving many medical marijuana patients back to much more dangerous medicines, such as opioids," says Lewin. "And also forcing medical marijuana patients to the black market to face further stress and danger."
A recently filed lawsuit in a B.C. federal court argues that taking away users' right to grow is a violation of their constitutional rights.
Marijuana making history
Although the Dutch are famous for their drug policies, recreational drugs are illegal in the Netherlands, which tolerates the purchase and consumption of cannabis in strictly regulated coffee shops.
This year, U.S. states and Uruguay are poised to make marijuana history.
When recreational sales of marijuana became legal in Colorado on Jan. 1, dubbed Green Wednesday, consumers lined up for hours at state-licensed shops, eager to buy weed, marijuana cookies, brownies and even lozenges. It's estimated first-day sales surpassed $1 million U.S. and business has remained brisk for the "ganjapreneurs."
The state set a tax on marijuana products at 25 per cent and earmarked the revenue to build new schools and beef up pot-related law enforcement. In Denver, the aptly named Mile-High City, The Denver Post has hired a marijuana editor to oversee coverage of this new market.
Washington state passed similar legislation, but retailers won't open until mid-year. Meanwhile support for legalization is growing in Alaska, California, Maine, Oregon and Rhode Island, which allow medical marijuana. There are 20 states, along with the District of Columbia, where medical marijuana laws have been enacted.
In addition, Maryland permits medical use as a defence and mitigating factor in marijuana-related cases. And last year it passed a law allowing medical centres to distribute pot in compassion programs, which are only expected to be operational in 2015.
In the U.S., marijuana remains illegal under federal laws. However, the Justice Department has said it won't challenge legalization in states as long as regulations are introduced that, for instance, prevent pot from being distributed to minors, profits from going to organized crime, and weed being diverted to states where it's illegal.
Legislative changes come at a time when more than half of Americans support legalizing marijuana, outlawed about 80 years ago. In the fall, a Gallup poll showed a record 58 per cent of Americans favour legalization — up 10 per cent in one year — compared with 12 per cent in 1969. Pollsters say changing social mores and the increasing prevalence of medical marijuana are likely contributing to the growing support.
Attitudes about policing pot laws are also changing, according to a Pew Research study in 2013, which found 72 per cent of Americans think enforcing such laws aren't worth the cost. The U.S. Justice Department seems to agree its war on drugs approach isn't working out as planned. Last summer it announced it would stop imposing mandatory sentences on minor drug offences.
Other big changes are also taking place further south. In December, Uruguay became the first country to legalize and regulate marijuana, which it hopes to start selling in April.
The South American nation may sell pot for as little as $1 a gram, in an effort to take on organized crime groups and drug traffickers that have dominated the drug trade and left a trail of bloodshed.
Uruguay's landmark legislation has other countries considering similar laws, including Jamaica, Chile, Trinidad and Tobago. In Argentina, the country's top anti-drug official recently called for a national discussion on the issue.
The series
The Star spoke to seven people for whom marijuana is part of their every day life.
Friday: The vapour lounge owner
Monday: The police officer
Tuesday: The medical user
Wednesday: The recreational user
Thursday: The pain specialist and the psychiatrist
Friday: The grower
The Toronto Star Story – Click Here